Saison 2023
OarbechterKiermes 2023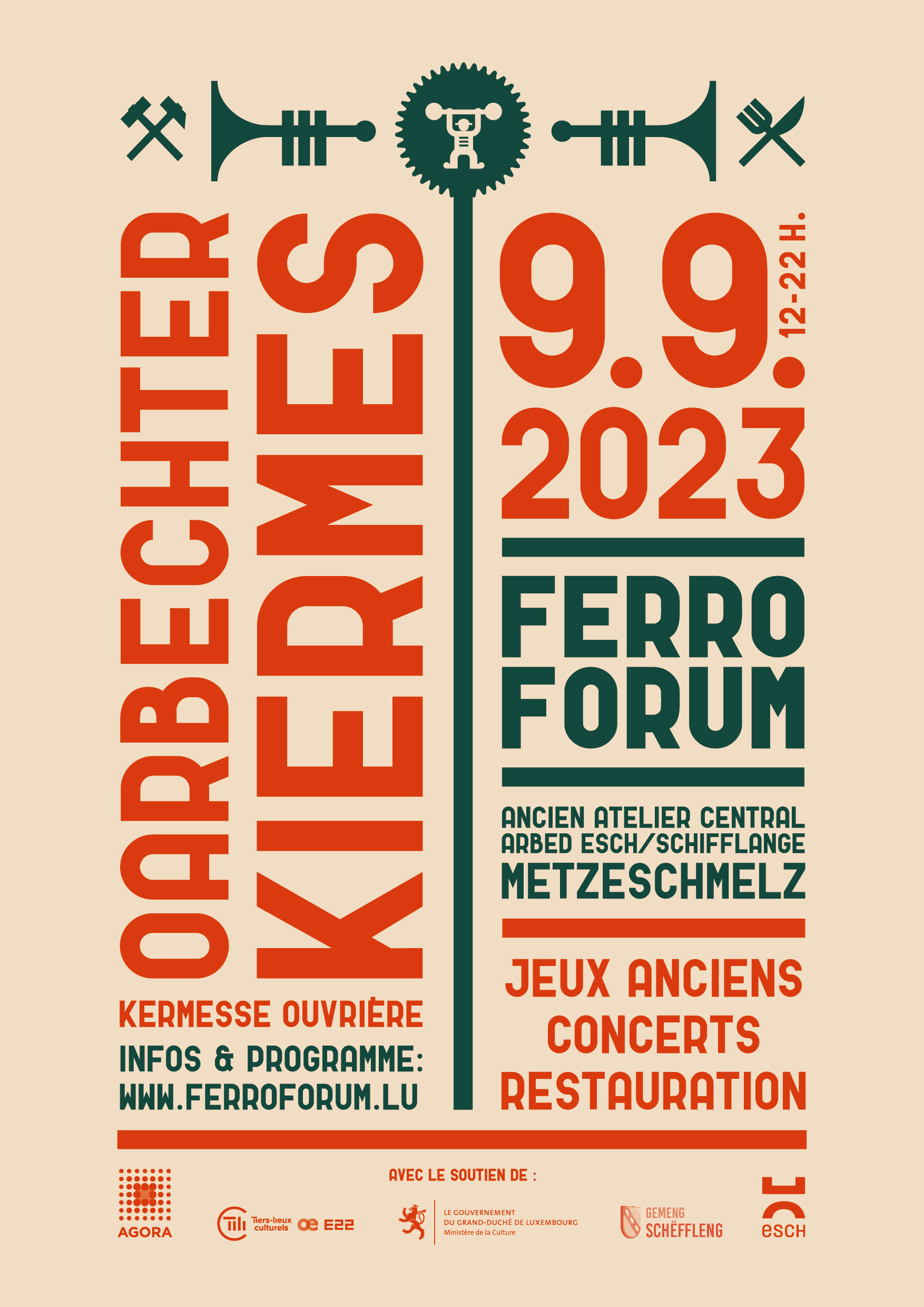 To celebrate the start of season after the summer break, FerroForum invites you to the 2nd edition of its workers' fair!
For Saturday September 9 from 12:00 to 10:00, the team has concocted a diverse program and offers a lively and joyful day for the whole family:
In the tradition of the popular fairs from the dawn of the 20th century, a variety of traditional games revisited ferroforum-wise will make your child-hearts beat.
– Traditional games revisited way ferroform that will make your child hearts beat.
– "Power Show" by our national "Hercules" Georges Christen. He will lead the central workshop at key moments with his resonant voice and his genuine power.
– Big ferruginous RAFFLE: buy your raffle tickets and win surprising originals, collected on the site of the Metzeschmelz!
All day long will be intertwined by festive and dancing musical interventions:
-The "Biergarbechter-Musék" of Esch-sur-Alzette will play the opening with the "Hämmelsmarsch"
– The "Amis de l'Accordéon" can't be lacking at fairs and popular balls, they will play twice.
– To close the evening, the OLP "Orchester Luciano Pagliarini" will take us to the dance floor during the Kermesse ball.
Of course there will be enough to satisfy appetites and rinse throats with our friends from the Millebéier for a tasting of craft beers, Ed and Jang at the BBQ, Claude at the Friterie, Giovanni at the Panzerottis, and our Nello with its famous waffles cooked on a wood stove … only delights! And last but not least, a real candy stall by the NEY family will tickle our sweet tooths.
As usual, access on foot or by bicycle from the portals of Schifflange and Esch-Neudorf (green track on map). A shuttle (red track) will also go back and forth continuously between the Portal Lallange car park and the central workshop between 12:00 and 22:00.
This event will animate the Metzeschmelz site jointly with the "Grand Bal and Kermesse" programming of the Nuits de la Culture.
PROGRAM:
12:00 – Official opening with the "Hämmelsmarsch" played by the "Biergarbechter-Musék"
12:00 – 18:00 – Kiermesspiller: traditional fair games for young and old
15:15 + 16:45 – Concert "Amis de l'Accordéon"
16:00 – Power show by Georges Christen
18:00 – Ferruginous Raffle – Draw
19:00 – 21:00 – Kiermesbal with the OLP: "Orchester Luciano Pagliarini"
22:00 – Closure and possibility of continuing to Schlassgoart with our neighbors of Nuits de la Culture
Date

09.09.2023

Timing

12:00-22:00

Status

Available

Price

Entrée gratuite

Location

Zentral Atelier
Quartier Metzeschmelz
Esch-sur-Alzette

Organization by

FerroForum a.s.b.l.

E-Mail address

moien@ferroforum.lu