"No der Schicht as virun der Schicht!"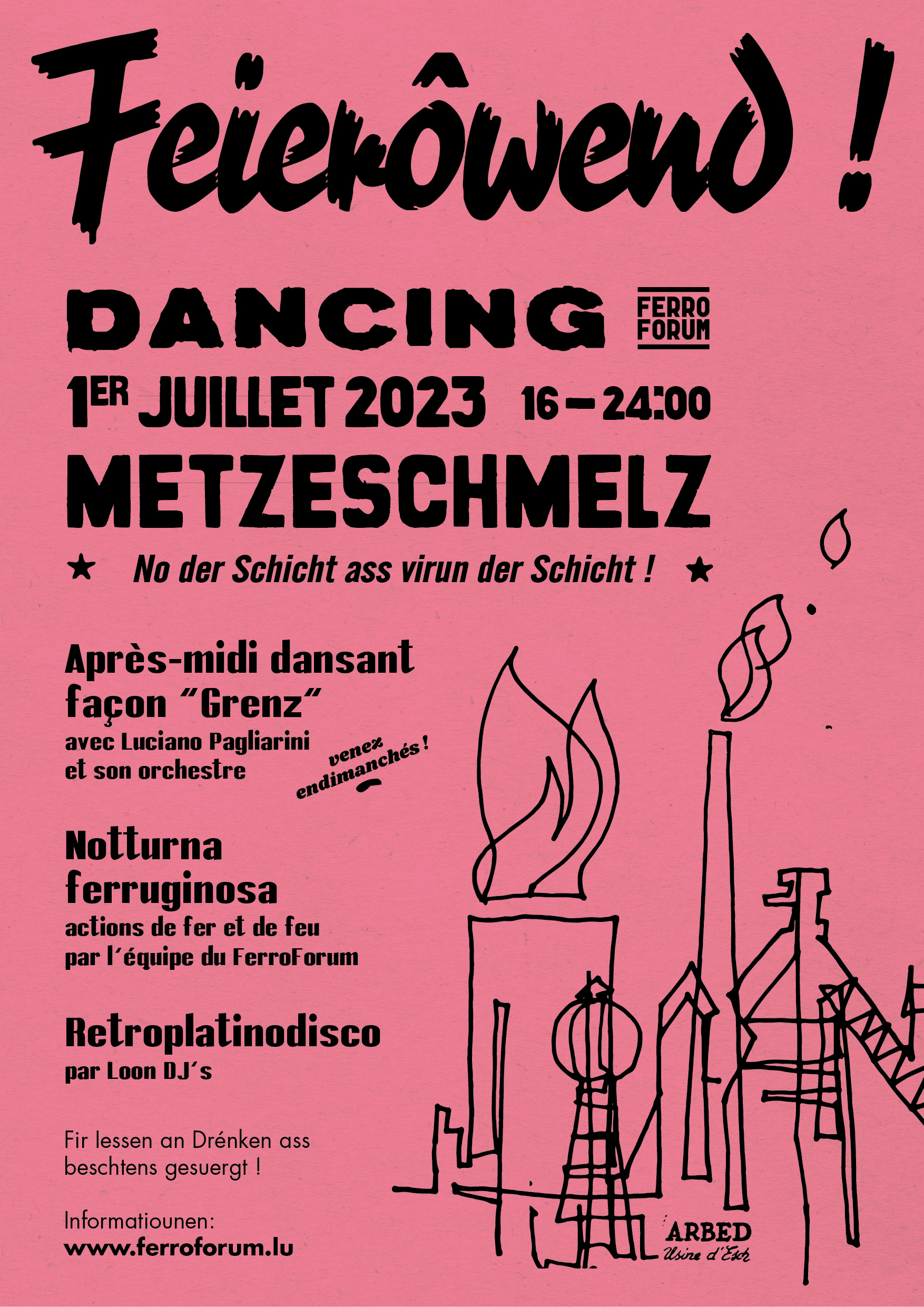 FerroForum kicks off the summer with a tribute to the "Grenz", a hotspot for workers' celebrations during the postwar boom.
We will await you from 4 p.m. to exchange good memories around a "Kaffi, Kippchen an Kuch". Luciano Pagliarini and his orchestra will have you dancing in the central workshop.
A notturna ferruginosa will follow with actions of iron and fire by the FerroForum team. A Retroplatinodisco will continue into the night, with the Loon Djs on the turntables. To keep energy levels high, we will provide fries and beers like at the border. And if you really want to do yourself (and us) a favour, come in your Sunday best like at the balls of yesteryear! T'ass Feierowend!
Feierowend! is the opportunity to present you a book project, the result of a collaboration between the FerroForum and Laura Steil, researcher at the C2DH (University of Luxembourg). As part of the Popkult60 project (FNR/DFG), she is interested in parties, dance and music in the Luxembourg industrial south of the 1950s-70s.
As the second book published by the FerroForum, "Feieren: Fester, Musek an Danz am Minett" will focus on the culture and memory of balls, dances and popular music in the south of Luxembourg. We continue to collect testimonies and documents, contact us if you want to contribute!
PROGRAM :
3:30 p.m. Opening of the gates and departure of the 1st shuttle
4:00 p.m. Welcome and "Kaffi, Kippchen a Kuch"
5:00 p.m. Opening of the dance floor with Luciano Pagliarini and his orchestra
6:00 p.m. Opening of the Frittebud
8:00 p.m.  Notturna ferruginosa by the FerroForum team
Retroplatinodisco by Loon DJ's
11:30 p.m. Last lights and fade out…
00:00 a.m. Departure of the last shuttle and closing of the gates
Info and contact: moien@ferroforum.lu
Date

01.07.2023

Timing

15:00-23:00

Status

Available

Price

8€

Location

Zentral Atelier
Metzeschmelz
Esch-sur-Alzette

Organization by

FerroForum asbl

E-Mail address

moien@ferroforum.lu